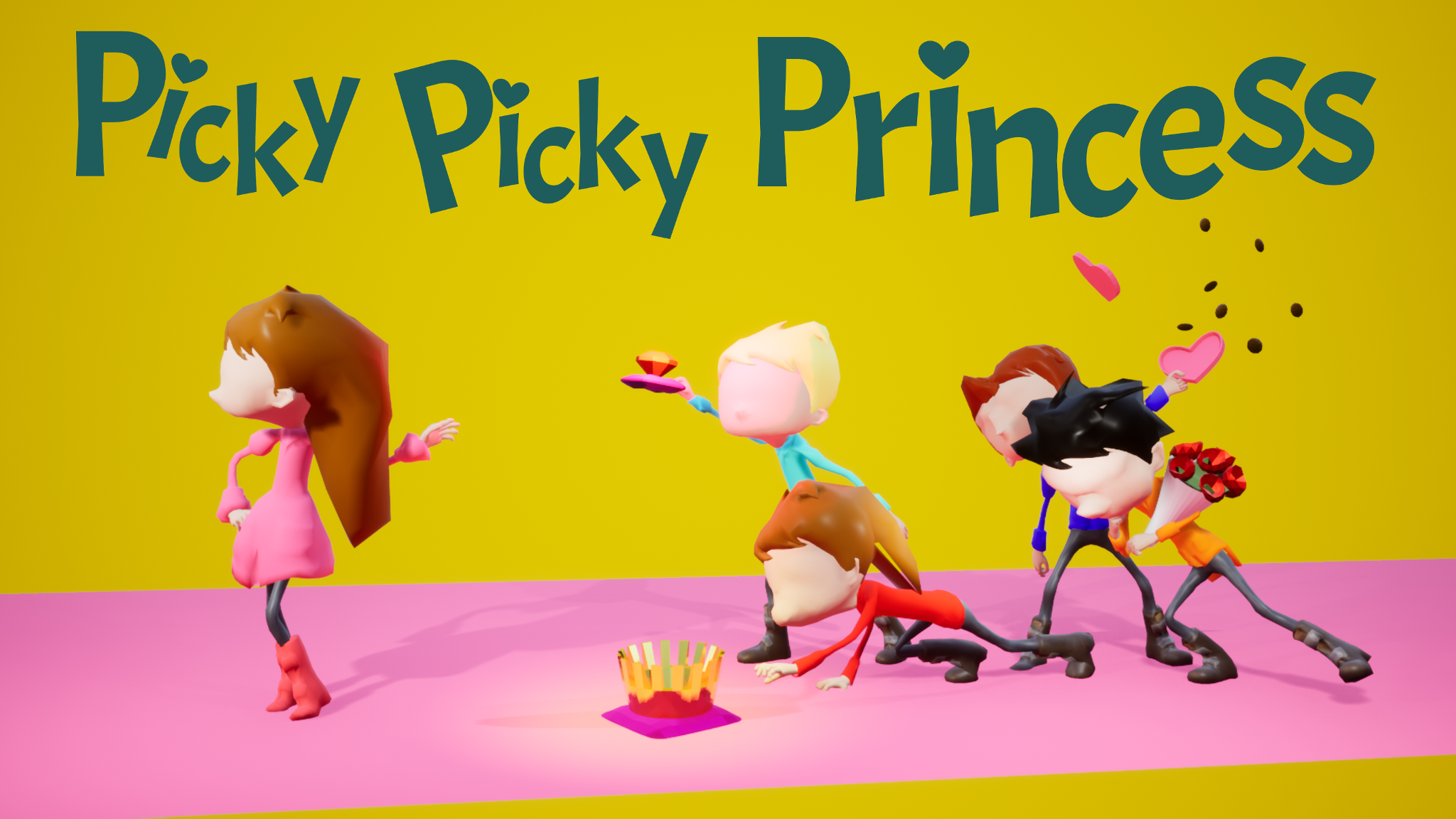 Picky Picky Princess
Version 0.3 Released - Computer Players and More!
---
Wow, what a difference two weeks makes! Jen and I have been working hard to pull in some significant changes to Picky Picky Princess, including Computer AI players, an end of round scoreboard, and much more. It's been hard consistently improving the game in our spare time, but we believe it's worth it. A month ago, Picky Picky Princess was a game jam game - functional but clunky, sorely in need of refinement and a lot of polish. Fast forward to now, and we're well on our way to a feature-complete alpha. Want to see what we've been up to? Check out our Trello board for development progress and our roadmap, along with some teasers for a story-driven co-op adventure mode!

So, what's next? There's still some plumbing and quality of life improvements to really put the game where we want it to be. After that, we'll be looking into new maps, new competitive game modes, and a cooperative experience to learn the story of the Picky Picky Princess. Stay tuned in the weeks ahead for another update!
What's New in Version 0.3? Look Below!

Computer AI Players

Added AI to control princes without a human controller. For now, any prince who isn't revealed at the play screen is automatically given a computer player to control it.
AI is pretty demanding right now, it will punch you out, take your gifts, and woo the princess right from under you!
I tried to strike a balance between hyper-efficient and fun to play against. Let me know your thoughts on computer balance - we can add additional difficulties and tweak behaviors to tailor your desired level of fun and challenge.
Gameplay & Player Quality of Life Changes

Matches can now span multiple days (rounds) in addition to tweaking the length of a round. Points for the match are accumulated across days, but it allows you to tailor the game experience a little better.
You can now change player names at the play menu. Use the mouse to click on a player name to edit it - player names with be used for the match scoreboard and some announcements.
Added an end of day (round) scoreboard. After a day is over, the scoreboard will pop up to display the round's results. Press any key to begin the next round.
Players will now move at 80% movement speed when carrying the Princess. This allows other players an opportunity to catch up with a player who has the Princess, making Dates a bit less luck-dependent.
Dates will no longer be announced within the last 5 seconds of gameplay. There really wasn't any way to get the princess to these dates reliably, so it just added unnecessary visual distractions.
Slow-mo now happens for the last second of gameplay, instead of after the round is completed.
Visual & Audio Improvements

Added horn fanfare sound effects for decrees and important round events
Added Player sound effects. Punch, wham, and whiff through the new audio cues.
Added Princess sound effects. What would a picky princess be without an annoying giggle?
Added animated water effects for the river and castle moat.
Added new texturing for dirt to make it blend in the level a bit more.
Improved game timer - now counts in seconds until near the end of the round, when it begins counting down in tenths of seconds.
Bug Fixes & Miscellaneous

Fixed collision with logs in the campfire area that could sometimes stop a player from running.
Replaced the game's splash screen - the old ones transparency was leaving ugly black areas in the image.
Tweaked the size and positioning of the scroll for in-game decrees - It was too big and sometimes blocked gameplay.
The princess now says some things that were previously decrees.
Reworded the text for some decrees .
Files
Picky Picky Princess (Version 0.3) (Win64)
206 MB
Mar 15, 2019