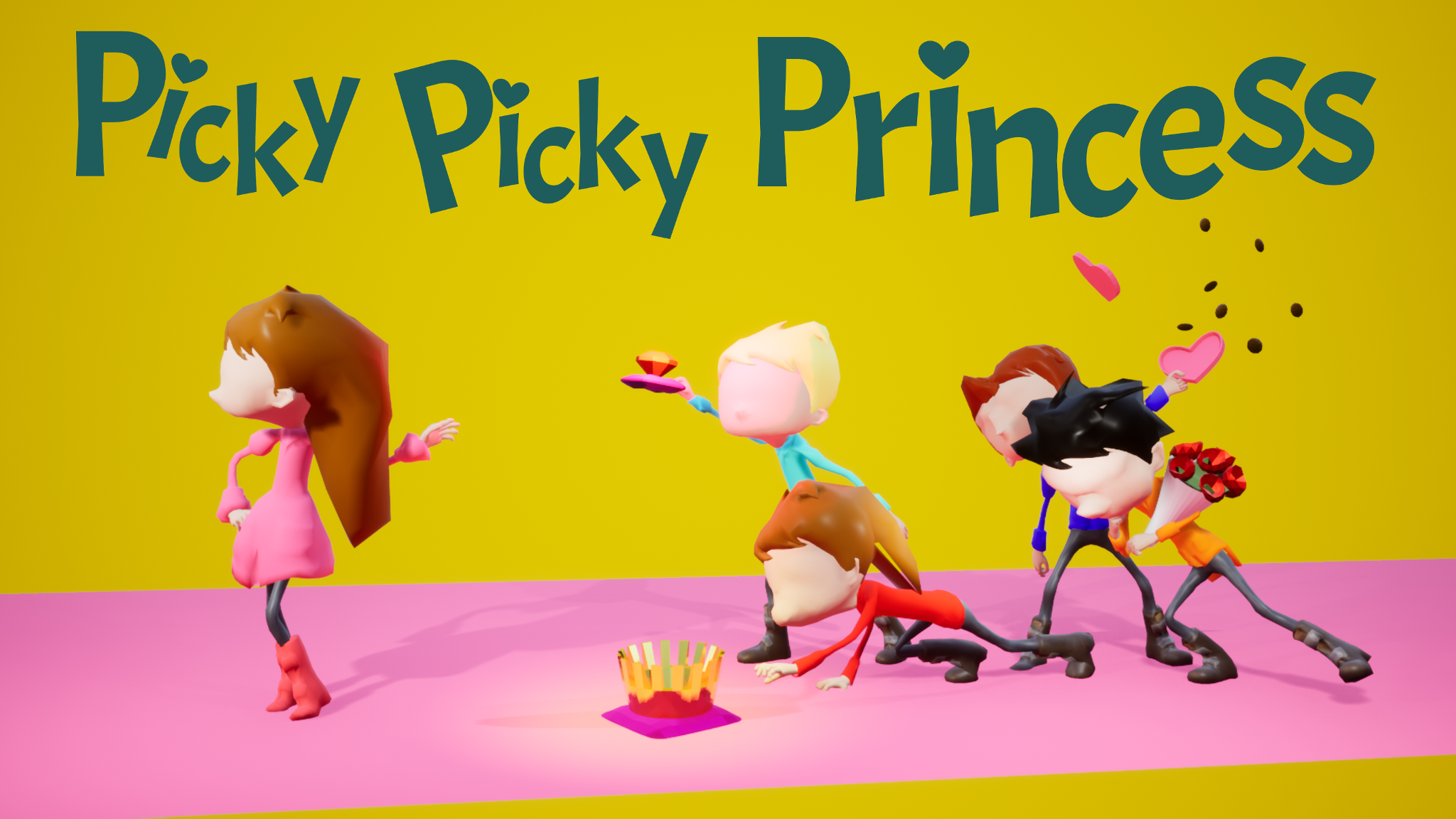 Picky Picky Princess
Today marks the start of something fun. I'll be working and regularly releasing updates to Picky Picky Princess to bring it up to what I would consider a feature-complete alpha version. Jen and I had so much fun making this game for the 2019 Unreal Engine 4 Winter Jam that we just couldn't stop! Our focus right now is on fixing user quality of life issues and making the game feature complete. For a deeper look at what's coming up, take a look at our Picky Picky Princess Trello Board. Current work is on user experience, sound, AI bots, and gameplay tuning for the level we have, but we are planning several additional game modes, new levels, and perhaps even a co-op story adventure mode if people are interested! We are very excited about evolving this game into something unique and would love to have you along for the ride!

What's New in Version 0.2? Look Below!

Gameplay Changes
Tweaked Princess date objective timing to be a bit more fun and to not schedule a new one if the old Date still hadn't been completed.
Hearts now appear over active date objectives so you can tell where to take the princess on her date.
Added special scoring for golden crown Special Gifts. Giving the Princess a Special Gift will now give you a nice favor bonus.
Added a slow-motion effect and some timing tweaks to the end of a round. Still needs some love, probably with the scoreboard update.
User Interface Overhaul

Added dedicated menu screens for game mode/player select and graphics/sound settings
Added animated camera transitions between user interface sections

Added mouse navigation to the menu screens. No gamepad support for menus yet, that's coming soon!
Graphics Settings - Added ability to change resolution, windowed/fullscreen, as well as miscellaneous graphical effects.
Sound Settings - Added a master volume slider, as well as sliders for different categories of audio.
Added a confirm exit dialog before exiting to desktop.
Added loading splash screens and executable icons.
Bug Fixes & Miscellaneous

Fixed an ugly bug that played both menu and game music at the main menu.
Fixed some text wrapping issues with Princess speech bubbles and decrees.
Built up the level's scenery a bit to support new main menu camera angles and fix a few issues.
Miscellaneous clean-up on some of the graphics.
Removed unecessary clutter and improved game deployment size. Now it's a bit more hard drive friendly!
This isn't a full-time job for either Jen or I, so expect a little variability in releases. We're shooting for an update this size about every two weeks. We hope you enjoy Picky Picky Princess as much as we do, and look forward to improving it together!
Files
Picky Picky Princess (Version 0.2) (Win64)
205 MB
Mar 04, 2019
Picky Picky Princess (#ue4jam version) (Win64)
465 MB
Feb 20, 2019